chic: floral blouse & chain bag // boyish: rugged booties
Pin It
Went to a local bar/club over the weekend with my friend, Jade. I love dancing with other girl friends because you just go for the good time of letting loose & dancing the night away. It's carefree & a release for me. I grew up taking dance classes (ballet, jazz, modern, tap, pointe, lyrical, hip hop... you name it!) & it's a very dear passion of mine. It allows me to get my mind off of all the other crazy stuff going on in my life. So, here's what I wore on my night out on the town.
chic: cat eye, heart earrings, bow ring & layering bracelets // boyish: dark nail polish & watch
Pin It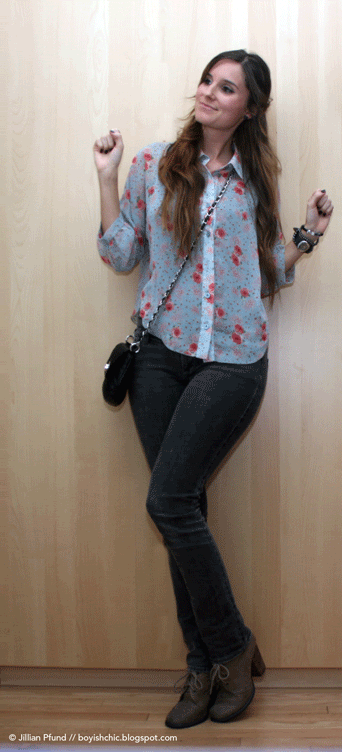 blouse, Therapy // bag, PacSun // jeans, bullhead // shoes, MIA // earrings, Swarovski
watch, Aigner // silver & black bracelet, gift // beaded bracelets, my Remedy // bow ring, Forever21
Wear anything fun over the weekend?
xx. Jillian
P.S. I'm trying a new layout with the type on the image to illustrate what's boyish & what's chic about the outfits I wear - what do you think? You dig or not so much?! I'd love to hear your feedback! Thanks!