It's that time of year: cold has set it. I'm okay with it for now because it's the holiday season, but I'm definitely much more of a summer child. That said, I still do love me some sweater wrapping, hot chocolate sipping, snuggle weather - just wish it wouldn't last so long!
I snagged this sweater at Urban Outfitters - it was on sale for $19.99 from somewhere around $80. I put it on & instantly felt warm & cozy. Truth be told, it's definitely not the most figure flattering, but it's suuuuper comfy & the perfect sweater to lounge around in by the fireplace & watch some cheesy Christmas movies. I'm also really into the color: it's like a raspberry sorbet & I have nothing this color so I'm happy about the color pop!
This shirt I've had for... years. Honestly. It was my favorite shirt in like freshman year of college. Haha! But I still love it. It's one of those shirts that's worn, but I can't seem to part with it..
A one-of-a-kind vintage piece I refurbished & redesigned for
my Remedy
.
I added the mixed stones & played around with layering different lengths of chain.
It's for sale
here
in my shop!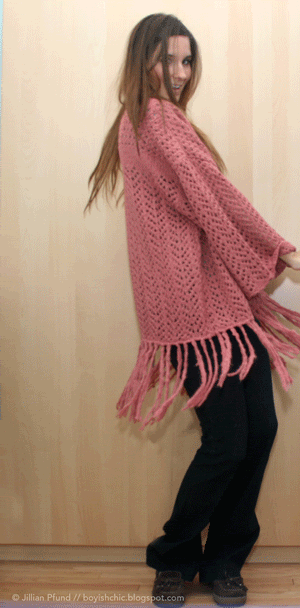 sweater, UO // shirt, Forever 21 // jeans, apostrophe // shoes, Roxy // necklace, my Remedy
Hope you're staying cozy this week!
What's your favorite sweater look like?
xx. Jillian